For professionals and beginners alike in the construction and home improvement industry, the oscillating multi-tool is the go-to tool. It acts akin to a Swiss Army Knife through its diverse set of applications. The OMT is great to work on a variety of materials from wood to metals to concrete.
Bathroom and kitchen fitters, joiners, electricians and plumbers are just a few of the people who use multi-tools in their work routines. Using the oscillating multi-tool saves them a lot of time, money and effort in any particular task.
Regardless of the brand, every oscillating tool comes with blades and accessories to equip it with for any task you plan to use it on. To take full advantage of your OMT, you need to attach the right blade to it. If it's not the right blade for the task and material you're working on, you risk broken materials and broken tools.
Having the right blade matters a lot when you work with an oscillating tool. You need to choose well when it comes to the blades you will equip in your OMT. One way to start searching is to look for a good, respected brand that makes oscillating tool blades. One such brand is Fein. It is a long-trusted manufacturer of multi-cutter saw blades and oscillating tool accessories. It is a pioneer in the industry so you can trust their products to work efficiently.
In this guide, the Ryker Hardware team presents you this guide on Fein's Multi-Cutter Saw Blades. We endeavor to help you choose the blades for your oscillating tool from Fein's Multi-Cutter Saw Blades. These blades are exactly designed for every application and material.
Fein Multi-Cutter Saw Blades and accessories are suitable for most oscillating multi-tools, including models made by Bosch, Makita, RIDGID and DeWALT. Being familiar with these blades and which to choose for each task and material is one of the crucial steps towards mastering the skills that your oscillating tool can perform.
Read on to learn how to choose which saw blade accessory to use on your multi-tool.
Which Fein Saw Blade Accessory Should You Use?
Fein has four popular saw blade accessories with varying compositions, functions, and material specialties. 
Perfect for materials such as hard and soft wood up to 50 millimeters, plasterboard, MDF, soft plastics, aluminum, copper and sheet metal, the Fein E Cut Universal Blade cuts through these materials easily. It is a strong bi-metal blade with its front cutting edge looking the same form as a hacksaw blade.
This multi-cutter blade provides a wider cut of 44 millimeters, comparably greater than the 35-millemeter standard of other blades. While it easily cuts wood, it is the best for cutting metals.
Fein E Cut Longlife Bi-Metal Wood Blade This blade is also the same as the Universal Blade in its bimetal or hardened metal composition. But it is known as an amazing "all-rounder accessory" by Fein. It can handle a wide variety of materials from soft and hardwood, chipboard and MDF, to metal like nails or copper pipe.
The Fein E Cut Longlife BiMetal Wood Blade can cut hard and soft wood up to 50 millimeters thick, plasterboard, MDF, soft plastics and nails and copper pipe.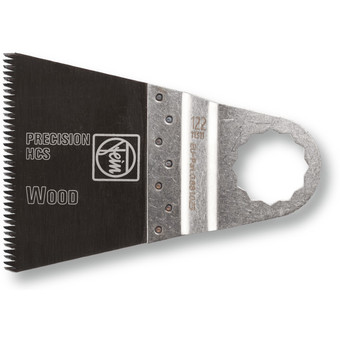 Unlike the previous two blades, the Fein E Cut Precision Saw Blade is not a bimetal blade. This means that this cannot handle metals well. If you're cutting into wood with nails, be careful using this because the teeth of the blade can bend and break. This blade is best for cutting wood (up to 55 millimeters), plasterboard, and soft plastics.
The cutting style of this blade gives the blade its name because it is quick and aggressive. This mechanism is enabled by the two rows of high-profile teeth. These teeth with large spacing in between are great for cutting hardwoods, chipboard and MDF. You can use this to efficiently create plunge cuts. This is the basic blade in Fein's arsenal of E Cut Multi-Cutter Saw Blades. It is perfect for cutting wood (up to 55 millimeters), plasterboard, and soft plastics. But one must be careful when cutting through material with nails or metal components because this is not a bimetal blade.
The Fein E Cut Standard Wood Blade works efficiently through fine teeth that provide quality cuts through wood, plasterboard, and soft plastics. These cuts are smoother and cleaner due to a less aggressive cutting style. But it works slower than the Fein E Cut Precision Blade.
It works best in creating clean plunge cuts, trimming skirting boards, or cutting through door stops when you're laying flooring.
Conclusion
These multi-cutter saw blades from Fein are just a few of the many oscillating tool blades in the market today. Since their inception, Fein blades and accessories help workers use their power tools in home improvement and woodworking tasks. There are also other brands that manufacture great saw blades. But if you need high-quality blades, you can start by getting Fein Multi-Cutter Saw Blades.
To learn more about oscillating tools and how to take advantage of them, go to Ryker Hardware. Browse through our articles from how-to guides to product reviews.
We have sold more than 350,000 saw blades all do to your support and confidence in the quality of products we sell and service we provide. Here at Ryker Hardware, we are focused on providing quality products at affordable prices to fit everyone's budget.  We source our saw blades from the same factories that many of the Big Brands use and pass our savings directly to you.